Ever since eating gluten free I have needed to cook at home a lot more. Especially when I first started eating gluten free restaurants didn't have all the gluten free options they do today! Having the right kitchen appliances and gadgets makes cooking at home so much easier and much more enjoyable!
#1 Instant Pot & Slow Cooker
My all time favorite appliance ever invented! I LOVE my Instant Pot! It has made cooking so much easier and faster! These things can definitely be intimidating at first but once you use it a couple times I think you'll get the hang of it. The key to getting used to using one is to get an Instant Pot recipe book or use Pinterest to find Instant Pot recipes to go off of.
Depending on what you are cooking, the instant pot can significantly cut down the cooking time. It also has an awesome slow cooker feature! So you can get rid of the old crockpot and use this for both! I am all about saving counter space!
So far, my favorite gluten free things to cook in the instant pot are:
Frozen Chicken Breast
Hard Boiled Eggs
BBQ Ribs
Chicken Tortilla Soup
Chicken Noodle Soup (The best when i'm sick)
Macaroni & Cheese
Rice (No more rice cooker needed)
Pot Roast & Pork Roast
Salmon & Veggies
I love that you just throw everything in, hit the setting you want, and let it cook! Then I can be doing laundry, cleaning, or working while my instant pot does all the work! It's also a breeze to clean up afterwords too! I the inside part of my instant pot in the dishwasher and it seems to be totally fine!
#2 George Forman 4-Serving Size
This is one of my most used appliances in my kitchen! The George Forman makes eating healthy so easy! With the removable grills it makes it easy to clean and make sure there is no gluten cross contamination since I cook my husband regular food. I just put the grills in the dishwasher and they come out perfectly clean!
This particular George Forman makes panini sandwiches with its Adjustable Floating Hinge. BEST THING EVER! We cook a lot of chicken breast, chicken thighs, steaks, veggies, bacon, burgers, and sandwiches on this! Making a grilled cheese just became 10x easier! I love that it removes all the grease from the food.
Since this is the medium size (4 servings) we can easily take it with us camping in our travel trailer too! We get so much use out of this thing!
#3 My Personal Toaster
This was something that totally slipped my mind when I first started eating gluten free! Toasters have SO MANY CRUMBS in them! If you don't have a dedicated toaster you will defiantly get cross contamination. I just got a small little toaster for myself since I am the only one who eats gluten free.
Now I can enjoy toast safely whenever I want in my own dedicated Gluten Free Toaster! I thought I would share this tip since I didn't think about it right away. Since some gluten free bread comes frozen I suggest getting a toaster with the option to toast from frozen.
Also a side note – you will want your own butter too! There always seems to be bread crumbs left on the stick or tub of butter which is not good for us ladies who eat gluten free!
#4 Copper Pans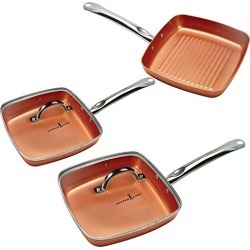 These Copper Chef Square Fry Pans are the best pans i've ever had! Food doesn't stick to them at all! You can cook, bake, and even fry food with them. I got these as a wedding gift from my grandparents and I seriously use them everyday!
These are pretty self explanatory as far as what you can make with them. Anything you'd make in a frying pan or pot on the stove you can make with these. 🙂 The particular set I got came with a little cookbook full of ideas!
#5 Vitamix
I love my Vitamix! This is the best of the best in blenders! This thing makes the best smoothies, protein shakes, soups, and chopping things up! Mine has a smoothie setting so I don't even have to think about how long to blend for! I got mine at Costco but they are also sold on Amazon, at Target, and Macy's!
My absolute favorite smoothie to make is to add Spinach, a small Orange, 1/2 a Banana, a little bit of fresh pineapple, a tiny bit of lime, vanilla protein powder, almond milk, and some ice! It's tropical and so yummy!
Even my hubby has been using the Vitamix to make smoothies and protein shakes before he goes to work! He just mixes some milk or almond milk, frozen mixed berries, and his RynoPower protein powder.
I hope you guys enjoyed this blog and hopefully it helps make cooking a little easier for you like it did for me!
xx,
Meagan